DEPARTEMENT DE LA COMMUNICATION
"DECLARATION DE MISSION
"
La déclaration de Mission du département de la communication est de " CONSTRUIRE DES PONTS D"ESPOIR" (Building the Bridges of Hope) comme thème principal.
Nous devons pour y arriver atteindre les diverses audiences au niveau des églises, aussi bien a l'intérieur qu'a l'extérieur, avec un programme de communication ouvert, responsable et plein d'espoir; est ce a travers une utilisation effective des méthodes et technologies contemporaines de communication.
L'objectif visé de la vision adventiste de communication et ses activités inhérentes est de créer une image favorable de l'église, de sa mission, de sa vie et de ses activités, aussi bien que de témoigner afin que beaucoup deviendront des disciples du Christ et seront membres de cette église qui sera la sienne.
Les activités du département s'avèrent comme une combinaison de la stratégie mondiale de communication de l'église. Les adventistes du septième jour pourront communiquer l'espoir qui repose sur la qualité de vie complète en Christ. Toutes les fonctions du département doivent être exprimées dans le contexte de la stratégie de l'église qui prône l'UNITE, la CROISSANCE et la QUALITE DE VIE.
Le département de la communication jouera le rôle de facilitateur pour tous les départements et institution de l'Union selon leur besoins et domaine d'activités.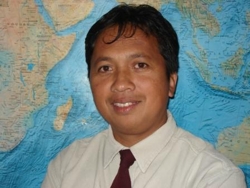 Elian Andriamitantsoa : Département Communication IOUM
Guide Semaine de la communication 01 - 07 Juillet 2012 : Français - Malagasy
Planning d'Activité Année 2012 : Français - Malagasy
Projet d'activité 2011-2015 et stratégie de communication.